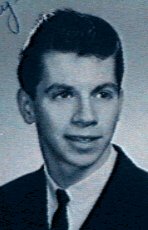 Where should I start? Well, I was born and raised in a small log cabin (just kidding) in Portland, Connecticut, a small town about 20 miles south of Hartford (Connecticut's capital). Originally, I had no intentions of going to college... that is, until my Junior year, when I met the girl who was to change my life... my lovely wife of over 40-years, Sherry! She inspired me to change my ways and consider improving myself by going to college. For the first time in my school career, I decided to try a little (I wasn't really ready to try that hard) and improved my grades to the point where, near the end of my Senior year, I was able to find a college that was willing to take a chance on admitting me. Much to the delight of all the teachers who had tolerated my shenanigans for four years, I graduated from Portland High School in 1963. (Yes, that's my high school graduation picture above. What a "greaser," huh?)

I went on to graduate from Eastern Connecticut State College (in Willimantic) receiving a degree in Biology, then received my Masters Degree in Education from Central Connecticut State College (in New Britain, home of Stanley Tools). There was a serious teacher shortage at the time, and districts were taking "warm bodies" to fill classrooms. Accordingly, I was hired to teach Science by the Wallingford School District on a "Temporary Emergency Permit." (Student teaching was waived after three years of successful teaching.) I originally entered teaching because Uncle Sam was breathing down my back. I intended to stay no longer than a couple of years. Actually, I cringed at the thought that I would be facing a room full of nasty little critters who were probably going to behave just as badly as I did when I was in school...shudder, shudder! But after getting a taste of teaching kids, I was hooked. I took the "Vow of Poverty" and have been in education ever since.

After six years in Wallingford, I heard about teaching overseas, so I applied to the Department of Defense Overseas School System, and was fortunate enough to be accepted. So, in 1973, I packed up the whole family and moved to West Germany to teach on a U.S. Army base in a little town called Hanau (home of the Grimm Brothers), just outside of Frankfurt. My son started Kindergarten over there, while my daughter went to Pre-School (where my wife, Sherry, was one of the teachers).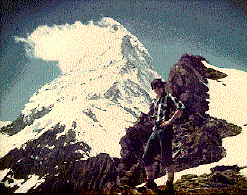 Living overseas was a blast! We got to travel everywhere for very little money... the Alps, Austria, Switzerland, Belgium, the Netherlands, Luxembourg, East Germany, France, England, Scotland. While overseas, I became very interested in mountaineering. One of the highlights of my stay over there came in 1977 when a friend of mine and I climbed Switzerland's Matterhorn Mountain (over 16,000 ft.). What an exhilarating experience!
Life overseas was great, but the military was a little too "transient" for us. Our kids' friends were changing all too frequently, and Sherry and I decided that they needed a little more stability. So, After four years in Germany, it was time to return home. One thing led to another, and in 1977, I ended up here in Western New York State teaching in the Greece School District (it's a suburb of Rochester, and the seventh largest district in New York State). It's hard to believe that I taught there for more than thirty years! For a couple of years, I taught "Junior High" (now they're all "middle schools") science, then moved to the high school where I taught biology. It was around that time that I began to get very interested in computers. I taught myself how to use one of the first Apple // computers and asked if I could teach one of my school's "Computer Math" courses. I was told, "Our Math Department does that." So, I went back to school, got a degree in Math, and finally got to teach some computer courses (with a few math classes thrown in for good measure). After that, I moved through several different schools in Greece, teaching a combination of Math, Science, and Computer courses. For five years, I was Arcadia Middle School's Educational Technology Coordinator.
Starting in 1996, I was released from my teaching duties to serve as a "Technology Integration Teacher" for the Greece School District. I worked with teachers in grades K-12 in several Greece schools showing them how to integrate different types of educational technology into their curriculum. In my position, I got to work on lots of neat projects which involved the use of technology. Computers were more than just a job for me... more than just a hobby, too. They had become a real passion to me! I admit it... I got hooked!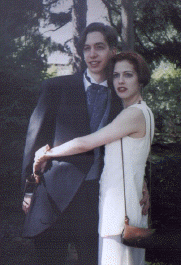 I have a great family. My son, Brendan, graduated from the State University of New York College at Brockport with a degree in Biology (gee, I wonder where he got that idea) and now works at a company in the area that develops educational materials for schools.
My daughter, Meghan, graduated from Cottey College in Nevada, Missouri and from Sarah Lawrence College just north of New York City. She's currently living and working in New York City. Meghan is also the lead singer in a popular New York City-based band called "Gift Shop.".

On January 12, 2000, in the midst of a cold Rochester blizzard, our hearts melted when we were blessed by the birth of our first (and only) grandchild, Ethan Matthew Taylor. Despite a surprisingly early arrival (2 months premature, 4 lb. 3 oz.), he has made wonderful progress and is 100% healthy and happy in every way. Sherry and I had NO idea that having a grandchild could be this invigorating. He is SO precious! (You can find some pictures of him by clicking HERE.)
My wife, Sherry, received her degree in English and is certified to teach grades K-12. She had been doing substitute teaching for many years (including lots of long-term assignments), and especially loved working with those adorable little Kindergarten kiddies in the Hilton School District, where we live. However, she put that career on hold after Ethan was born in 2000 to become his full-time baby-sitter. Early every morning, for the first five years of Ethan's life, she drove over to his house and spent the whole day with him. He's such a lucky kid to have had his own grandmother, who is also a teacher, care for him all day. Together, they went to museums, parks, plays, swimming lessons, Gymboree, gymnastics, etc. Now that he's in school, and I'm retired, we still drive over to Ethan's house early every morning to have breakfast with him, and to put him on the school bus. He is such a cool kid!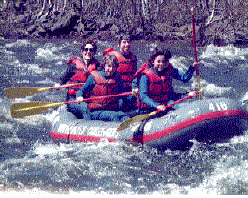 Until my two strokes in 2004, I used to stay really busy. I had plenty of interests and have participated in lots of fun activities over the years. There are no real mountains like the Alps (see above) around here. I really missed that. But I was able to find other exciting things to try. I used to do a lot of whitewater rafting. In the picture at the left (from left to right) that's Sherry, Meghan, me, and some of Meghan's friends. I also played a lot of basketball, tennis, golf, racketball, etc. Then, GOLF became a real passion for me. With lots of practice, I got pretty good at this simple, yet frustrating game. I was just starting to break 80 on a regular basis, when I suffered my two strokes. Since then, my game is shot. Don't get me wrong. I'm thankful that I'm still able to get around a golf course, but these days, I consider myself very lucky if I can break 100! I still try to play every week with a great bunch of friends. (For more information about our golf group, click HERE.)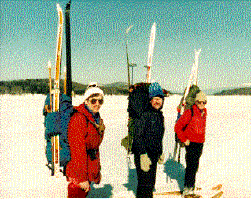 I used go winter camping in the Adirondack Mountains with "the guys" every February. We did that for more than 10 years. In the beginning, we actually used to camp out in the snow! The first year we did this, the temperature never got above 20-degrees below zero! But as time went by, we mellowed (read that aged), and started staying in a cabin and spending the days hiking, snowshoeing, and cross-country skiing. (Evening often found us at one of the area's pubs sampling a frosty mug or two of the local brew and playing cards.) Since I had my strokes (2004), I haven't been on any more of our trips. It was fun while it lasted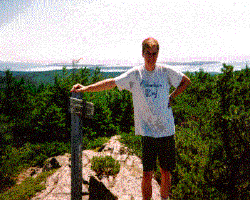 During the summer, Sherry and I go to Maine for a couple of weeks. She's originally from Maine, and her mother still lives up there. We used to stay at her mother's house, just outside of Bar Harbor. I used to spend my days hiking the mountain trails of Acadia National Park (that's me at the left, on one of the summits), and playing golf (what else, right?). At night, we eat lobster, clams, mussels, etc. Who knows, some day Sherry and I might just move there for good!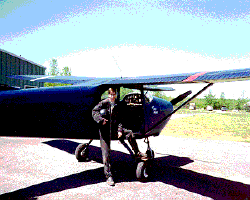 One of my lifelong dreams has always been to fly, so several years ago, I took sky-diving lessons. Talk about a thrill! Wow! It's one of those things that I would have liked to take up as a serious, continuing hobby, but the cost was just too prohibitive. Oh well, maybe when I retire....
(When my son, Brendan, graduated from high school, we gave HIM sky-diving lessons, too. We jumped together.)
Well, if you've bothered to read this far, you've been more than patient. I hope this has given you some idea as to what I'm all about. See you online!