Parkwood Heights
Movie Calendar Project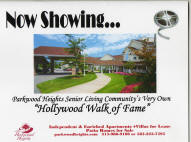 In the fall of 2014, Parkwood Heights Senior Living Community of Macedon, NY was involved in an interesting "calendar project." The residents recreated scenes from some of Hollywood's most famous movies. Here are the results of our project...
(Click on any picture to see a larger version)
(Note: The small insert in each picture is the actual scene from the original movie)
(Note#2: The actual calendar does NOT contain the small inserts.)

Front Cover

Back Cover

January
"The Shining"

February
"Guess Who's
Coming to Dinner?"

March
"Caddyshack"

April
"Titanic"

May
"Wizard of Oz"

June
"Baby Jane"

July
"Thelma & Louise"

August
"A River Runs
through It"

September
"Annie Hall"

October
"9 to 5"

November
"Grumpy Old Men"

December
"Little Women"
Note: These calendars are for sale. All proceeds benefit the
Town of Macedon Ambulance Services.
To purchase a calendar, call Parkwood Heights at (315) 986-9100.
© 2014 - J. Taylor