Parkwood Heights
Saturday Evening Post
(Norman Rockwell)
Calendar Project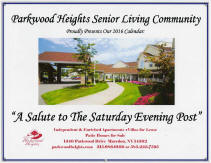 In the fall of 2015, Parkwood Heights Senior Living Community of Macedon, NY was involved in an interesting "calendar project." The residents recreated scenes from some of the Saturday Evening Post's most famous covers, most of which were painted by Norman Rockwell. Here are the results of our project...
(Click on any picture to see a larger version)

Front Cover

Back Cover

January
"Breakfast Table"

February
"Decorator"

March
"Bridge Game"

April
"Sunday Morning"

May
"After the Prom"

June
"There Goes the Bride"

July
"Gramps at the Plate"

August
"Important Business"

September
"Bargaining for Antiques"

October
"Decoys"

November
"Home for Thanksgiving"

December
"Freedom From Want"
Note: These calendars are for sale. All proceeds benefit the
Town of Macedon Ambulance Services.
To purchase a calendar, call Parkwood Heights at (315) 986-9100.
© 2014 - J. Taylor